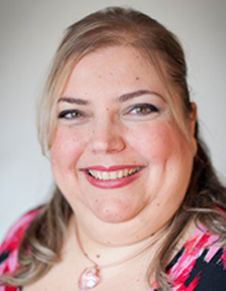 Frederika Roberts is an ordinary person who has experienced extraordinary events.  In business, she has learnt at least as much from her mistakes as from the things she got right. Her personal life has been a rollercoaster of emotions, yet Frederika feels exceptionally lucky and describes herself as 'fundamentally happy'.  Now she shares her poignant, emotional story and her 'Recipe for Happiness' with audiences and readers to help them be happier, more resilient and more successful at achieving their goals.
Born in Italy, of dual Italian and German nationalities, Frederika moved to Luxembourg with her parents when she was two years old.  She moved to the UK in 1990 to study at the University of Bradford, where she met her husband.  After obtaining her BSc(Hons) in Business and Management, Frederika undertook post-graduate studies in education and became a qualified teacher.  Over the years, she has worked in education, held customer services and sales roles and worked in recruitment.  She has set up and run her own businesses, managed teams and worked for herself.
She now lives in South Yorkshire with her husband and two teenage daughters.
Get in touch now to book Frederika to speak at one of your events or to deliver a workshop/seminar for you.