Author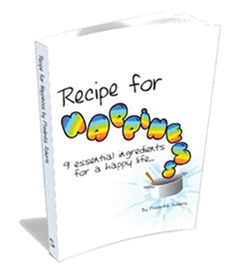 This thought-provoking book is crammed full of simple tips and easy, practical actions you can take to work on your own happiness.
With a combination of personal anecdotes from Frederika's personal and professional life, poignant inspirational quotes and practical tools, Recipe for Happiness will leave you inspired and equipped to achieve more in all areas of your life.
• 9 simple 'ingredients' – tools – for a happy and fulfilled life
• Moving, yet easy to read, 'Recipe for Happiness' conveys a clear message: Happiness is a choice you can make and this book shows you how to work on
your own happiness
• Each chapter includes a delicious recipe that will tantalise your taste-buds
Back Cover Description
Far too many people go through life as though it were a waiting room. "When I achieve this, I'll be happy" is the often-repeated mantra of the stressed and unhappy. The goalposts, however, keep moving and happiness can seem an unreachable and lofty objective.
Frederika Roberts believes happiness to be a goal for the present, not the future. She believes that happiness is a goal everybody should pursue and can achieve. Research has shown that happiness leads to greater success, improved health and longer life, so why put off being happy?
Read more >
In 'Recipe for Happiness', Frederika outlines her nine essential ingredients for a happy life. She cites the stories and views on happiness that people have shared with her during the writing of this book, as well as referencing some academic research on the subject of happiness. Along the way, Frederika takes the reader on a journey through some of her own life experiences, from overcoming the traumatic ordeals her family has gone through to the challenges she has surmounted while setting up, growing, shrinking and closing businesses.
One of Frederika's personal 'little happiness ingredients' is cooking and sharing food with friends and family, so this book also includes some of her favourite recipes; from her own creations to Italian classics, the nine simple recipes included in this book are simple yet delicious. A treat for the tastebuds.
Whether you are already a happy person and want to add a few ingredients to your personal recipe for happiness, or are striving for happiness in order to lead a more fulfilling, healthy, successful and long life, this book is for you. The essential ingredients for a happy life that Frederika shares in this book are valuable life and business tools that everyone can apply to their personal and working life.
This book will leave you inspired, motivated and able to achieve more success, whatever your goals. Above all else, after reading this book and trying out the recipes, you should definitely feel happier.