With Funny Business Doncaster rapidly approaching, I've enlisted the help of Tina Gill at Victoria House Wedding and Occasionwear in Armthorpe to raise further funds for Weston Park
*** FOR IMMEDIATE RELEASE ***
Donny Delivers Fashion Fix for Cancer Care
'Funny Business Doncaster' contestant Frederika Roberts and Armthorpe fashion boutique owner Tina Gill collaborate to raise funds for Weston Park Hospital Cancer Charity.
The Charity Launch Event will take place on Saturday 25th October at Victoria House Bridal and Occasionwear (formerly Wedding Belles) in Armthorpe, Doncaster, from 12 noon until 4pm. This will include a prize draw to win a multi-way dress worth nearly £200, discounts and offers, afternoon tea with a twist, a travelling catwalk showcasing the new collection, hair and make-up advice, wedding and event-planning advice, and much more.
Frederika and Tina met at a 'Women in Business' networking event and decided to collaborate to help Frederika reach her target of £1,000 in donations for Weston Park.   The unique fundraiser, 'Funny Business Doncaster', is being held for the second year to raise vital funds for Weston Park Hospital Cancer Charity. The challenge will see nine leading business figures complete a five-week training programme under the guidance of Sheffield-born policeman turned creative comic, Alfie Moore. The training began in the early autumn and will culminate with the comedy hopefuls performing live on-stage at Doncaster Racecourse on Thursday 6th November.
To buy tickets for 'Funny Business Doncaster' and/or donate to the fundraising effort go to www.justgiving.com/teams/FBDoncaster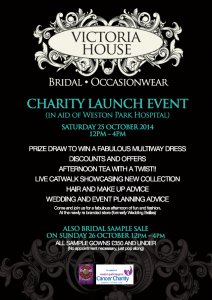 Frederika Roberts, a professional speaker, trainer and coach (The Happiness Speaker) is determined to raise as much money as possible for Weston Park.
"I'm doing something terrifying: standing up on stage and deliberately trying to make people laugh. It's so far out of my comfort zone I can't even remember where my comfort zone is! My driver for doing this is to raise vital funds for this fantastic charity. In some way or other, most of us have been or will be affected by cancer at some point in our lives. It's scary and it's very definitely not funny. I don't just want to reach the £1k target, I want to smash it!"
"Weston Park is a charity very close to my heart" says Tina Gill of Victoria House. "I have worked with and supported them before and will take every opportunity to do so again. I hope we get a huge attendance at our launch event on Saturday 25th October and help Frederika raise lots of much-needed cash for Weston Park."
Weston Park Hospital in Sheffield is one of only four dedicated cancer hospitals in England. Weston Park Hospital Cancer Charity supports the hospital by funding pioneering cancer research and helping to improve cancer treatments and care for patients from Sheffield, all of South Yorkshire, North Nottinghamshire and North Derbyshire.
-ENDS –
Contact – regarding the Launch Event on 25th October:
Tina Gill
Tel: 07538 675 780
Frederika Roberts
Tel: 07984 80 66 51
Contact – regarding Weston Park and the 'Funny Business Doncaster' event in general:
Cassie Melluish
0114 226 5089
Members of the Press are also very welcome to attend the Charity Launch Event on Saturday 25th October, where Tina Gill and Frederika Roberts will be available for interview. They are also, of course, available for interview/comment in the lead-up and after the event.
Photos & Logos (all available in high resolution)
Weston Park Hospital in Sheffield is one of only four dedicated cancer hospitals in England. Weston Park Hospital Cancer Charity supports the hospital by funding pioneering cancer research and helping to improve cancer treatments and care for patients from Sheffield, all of South Yorkshire, North Nottinghamshire and North Derbyshire. – See more at: http://www.wphcancercharity.org.uk/#sthash.WaV98dsQ.dpuf
Weston Park Hospital in Sheffield is one of only four dedicated cancer hospitals in England. Weston Park Hospital Cancer Charity supports the hospital by funding pioneering cancer research and helping to improve cancer treatments and care for patients from Sheffield, all of South Yorkshire, North Nottinghamshire and North Derbyshire. – See more at: http://www.wphcancercharity.org.uk/#sthash.WaV98dsQ.dpuf